This is my dogs favorite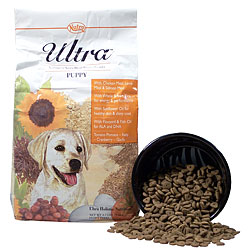 OTHER FOODS MY PUGS & HUSKY LIKE THAT I FEED ARE ULTRA DRY FOOD, SOFT MERRICK, SOFT EVANGER, and here is why!
What's Ultra Holistic Nutrition? It's simply the best combination of holistic dog food ingredients that we could find. We know that dogs need protein and we've combined three animal proteins—chicken, lamb and salmon meals to provide essential amino acids for better muscle development and overall performance. Okay, we know you understand chicken and lamb, but why salmon? Well, salmon naturally contains essential amino acids like DHA. Dogs need animal proteins to grow and stay strong and it's the combination of poultry, meat and fish that makes Ultra a protein-rich holistic dog food that your pet will gobble up.
| | |
| --- | --- |
| But, Ultra is more than protein. We know from experience that many essential nutrients can be found naturally in flowers, vegetables and grains. These days, more and more of us are becoming aware just how nutritious foods like tomatoes, cranberries and garlic are. Tomatoes contain Lycopene and Tomatoes provide vitamin C, both of these are powerful antioxidants. These antioxidants fight free radicals and help fight the effects of aging—that's something that all of us can appreciate. | |
And by adding natural amino acids and omega-3 and omega-6 fatty acids from sunflower and fish oils, we've made a food that is not only rich in naturally occurring nutrients like DHA and linoleic acid, Ultra tastes great too. What good is a highly nutritious food if no one wants to eat it! We don't want to brag—or maybe we do—but we've tested Ultra with dogs and found that more dogs prefer Ultra than other comparable brands*. We know your dog's biggest concern is taste and Ultra has the taste your dog will love! We know that your concern is whether your dog is getting the healthiest diet he or she possibly can. With Ultra, the answer is a resounding YES!
The best part of Ultra is that you can see the difference. Healthy skin and a shiny, lustrous coat are one hallmark of an Ultra dog. We've also been told that dogs fed Ultra seem to be more easily trained with a better ability to understand commands. But the best thing is that a well-nourished dog is going to be a healthy and happy companion for you and your family.
Oh, and lets not forget that Ultra contains absolutely no chemical preservatives—no BHA, BHT, ethoxyquin or propyl gallate. So you can be sure that you are getting a food that is good for your dog's sustained vitality and well-being. We think Ultra is the best formula for your dog's health and happiness—so we invite you to try it!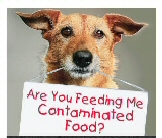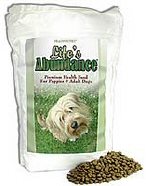 Chicken Meal, Fish Meal, Carrots, Apples, Spinach, Celery, Alfalfa Meal
Ground Brown Rice, Powerful Antioxidants, Live Probiotics, Chelated Minerals
NO Chemicals, NO Fillers, Nothing Artificial
Lifes Abundance Premium Dog Food contains only fresh, natural, wholesome ingredients. It provides 100% complete nutrition in accordance with AAFCO feeding protocols.
This premium dog food is a high antioxidant formula and contains 3 sources of superior protein ... chicken meal, egg and fish meal plus carrots, apples and more.

There is no corn, wheat, dairy, by-products, artificial colors or flavors in Lifes Abundance. To learn more and get free samples click on the bag of dog food above!
Our manufacturing facility is a USDA certified APHIS (Animal Plant Health Inspection Service) plant. APHIS certification allows the sale a of finished product to the International market, including the European market, which has extremely high standards on ingredient s
Don't see your brand of pet food? Here's how to compare your brand to Life's Abundance.


1.
Get your bag of food
. Look for the Ingredient Statement on the label.
2.
Read the first 5 ingredients
. They play a significant role in the nutritional make-up of a food.
What are the protein sources? We believe the primary source should come from quality animal protein, not vegetable protein or grain. Foods that list 2 or more grains in the first 5 ingredients may have more vegetable protein than animal protein.

Life's Abundance primary protein is chicken meal. Why? Because chicken meat contains a certain amount of moisture; however, chicken meal is a concentrated source of chicken protein because most of the water has been removed. Therefore, it stands to reason that you get a greater "protein content" in 1 pound of chicken meal versus 1 pound of chicken.

What about grains? Two or more grains listed in the first 5 ingredients means your food may have more vegetable protein than animal protein. Grains such as soy, corn, corn gluten and wheat gluten can be difficult to digest, which means less nutrition and more clean up.

Life's Abundance lists only 1 grain in the first five ingredients, ground brown rice.

Are there by-products? Some manufacturers consider by-products inferior sources of protein and, depending on the source, they can be difficult to digest.

Life's Abundance does NOT contain by-products ingredients.

What are the fat sources? Some fats are better than others. We believe the primary fat source in dogfood should be animal based because animal fats contain a profile of fatty acids that are easily metabolized and thus are generally more available to the body.

Life's Abundance contains chicken fat.
3.
Does your food contain other health-promoting ingredients, such as:
Vegetables, Beet fiber, Antioxidants, Proteinated Minerals, Bacteria cultures.
Your dog deserves the very best food. How does your food measure up?
Merrick wet food!